Breast Cancer Survivors "Live Fearless" in North Carolina
Conrad, NC – Advocates, NASCAR superstars and Football legends came together to show their support for breast cancer survivors at the Charlotte Motor Speedway last Thursday.
The 5th Paint the Pit Wall Pink event converted the speedway into a sea of pink as hundreds of advocates flocked to the historic site. This event is held to kick off various breast cancer awareness events leading up to the worldwide awareness month in October.
The event began as breast cancer survivors in attendance yelled "Live Fearless" before getting down to business.
It was indeed a statement to live their best lives despite having been diagnosed with breast cancer. In many cases, the fear comes from not knowing enough about the disease and how to get help after being diagnosed. This is what the organizers and supporters hope to extinguish with this annual event.
In attendance were NASCAR stars Kaz Grala, Chris Buesher and Series champion Jimmie Johnson. "I've had many friends deal with it and then most recently, one of my wife's childhood friends was diagnosed and she's started treatment."
Looking for women's headbands? Find the perfect headband at SweatBands.com
The event also featured a collection of Blue Cross and Blue Shield of North Carolina employees. As a longtime ambassador of Blue Cross and Blue Shield, Johnson is glad to see more personalities from NASCAR take up the cause.
In an interview, Johnson said: "It's great to be a part of such a bigger picture and raising awareness for a great cause. Blue Cross and Blue Shield of North Carolina has had me involved with many different projects, but this one hits deep. To meet survivors and hear their stories really hits me. It's impossible for someone to go through life without knowing someone or a family who has dealt with breast cancer. "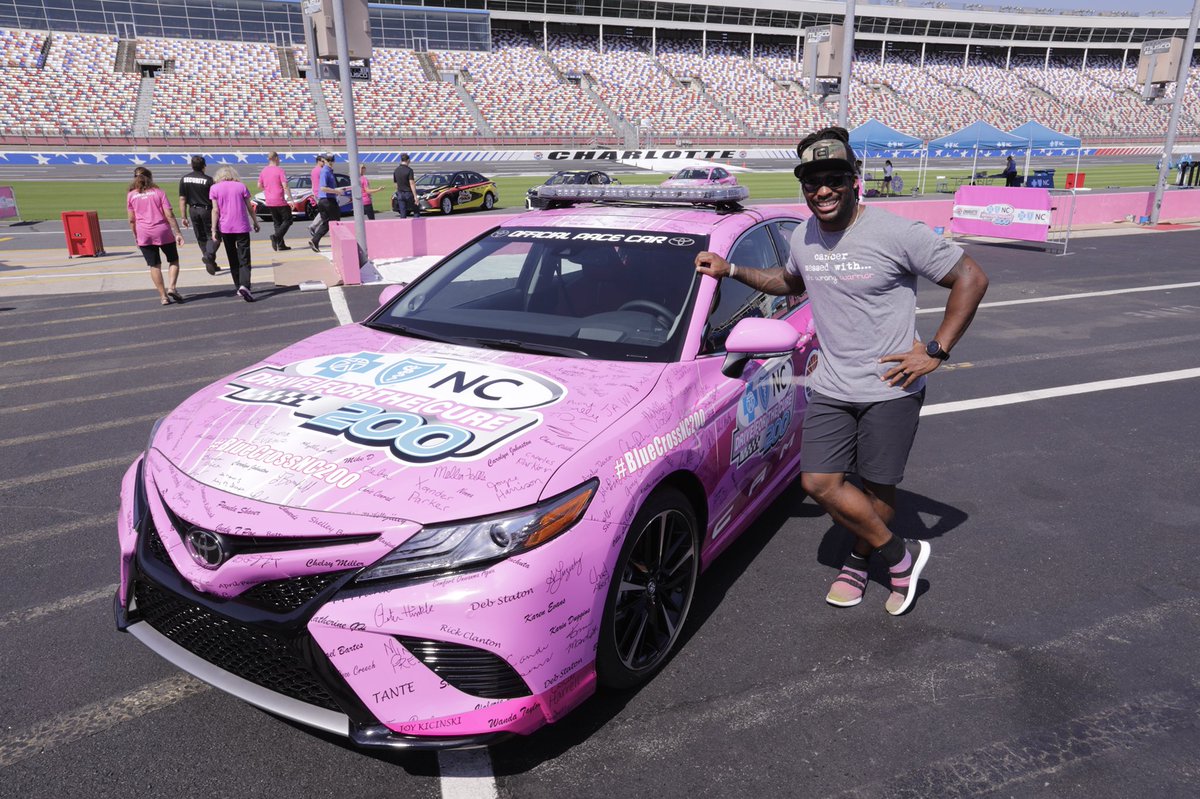 Also in attendance was Carolina Panthers running back DeAngelo Williams.
In 2006, Williams founded the DeAngelo Williams foundation in the name of his aunts and mother who lost their fight against breast cancer. Now, he is one of the state's staunchest advocates of awareness and education.
Williams lost his mother and four aunts to breast cancer. The Pro Bowl running back founded the DeAngelo Williams Foundation in 2006 to support the eradication of breast cancer through research and preventative care. Aside form lending much needed star power, he also agreed to drive the pace car for the upcoming Drive for the Cure 200 on September 29th.
"For them to show the support they have … people around the world who are watching the races will see the pink and ask questions like, 'What's the pink mean?'.  The number of calls and (direct messages) I've received – just in the NFL alone – I know that this will reach as many people as the NFL reaches. Saving lives is what we're all about. This is bigger than any game or sport that we play."
After all, isn't the point of these events is to get people asking more questions about breast cancer?
Looking for Pink Ribbon Items? Visit Suddora and use the coupon code BCFG10 for 10% OFF your order! Including great items like: