Connecticut Sun Guard Fights Stigma Against Cancer
It's a mother-daughter team-up against Breast Cancer.
When Jasmine Thomas' mom was diagnosed with cancer in 2010, she knew her mother would make it through. Aside from being a formidable woman,  the disease was caught early and therefore had a good chance of survival. After undergoing surgery and a year of radiotherapy, Sharon Thomas was told she was cancer free.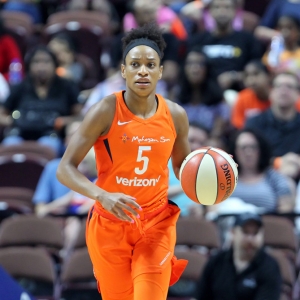 Jasmine knows that her mother was one of the lucky ones. Not all women are fortunate enough to be diagnosed early or get the treatment they need. To make matters worse. there is still a stigma that surrounds a diagnosis. The devastation it brings has caused us to fear cancer to the point that we refuse to acknowledge its existence.
Breast cancer advocates such as Jasmine and Sharon knows that the only way we can put an end to the Big C is to bring it to the light. This is why she has become a fierce advocate of education and awareness.
"The more we talk about it, the more we desensitize it and make it something (where you know) you didn't just go through it, everyone's going through it. It's a community issue. It's something that we can (help) together through fundraising for research. The more that you can realize you can stay proactive and have your mammograms, you can put yourself in a better position." Said Thomas in an interview with the Atlanta Journal-Constitution.
Looking for women's headbands? Find the perfect headband at SweatBands.com
This formidable mother and daughter team have started a habit that they hope to pay forward.
Jasmine knows all of her mother's breast health appointments and makes it a point to remind her about them. In turn, Sharon does the same thing for her co-workers.  With a simple change in their routines,  both women ensure that their inner circle gets their mammograms on time!
Now that Jasmine is a member of the Suns, she wants to use her influence to encourage more women to get active about cancer prevention. Preventative Care includes getting the right information, screening and yearly mammograms. Moreover, it's about getting rid of the stigma that surrounds the Big C. This coming Sunday, the Suns are hosting a Breast Cancer Awareness game to benefit the Norma Pfriem Breast Cancer Center at Smilow Cancer Hospital.
Best of luck to Jasmine and her team.  Moving forward, let's stop calling cancer the "Big C" or the "C-Word" – let's face it head on!
Looking for Pink Ribbon Items? Visit Suddora and use the coupon code BCFG10 for 10% OFF your order! Including great items like: