The Empowering 5K Walk/Run for Breast Cancer Survivors
The residents of Decatur, IL has just pulled off another successful Come Together, Be Empowered event last June 29, 2019 at the beautiful Fairview Park.
For the 9th straight year, this electrifying event has helped hundreds of breast cancer survivors find strength and inspiration from one another. The three-ribbon logo symbolizes the efforts made to educate women about the three deadliest forms of cancer known to them: Ovarian, Breast and Cervical Cancer.
As an example of what an event like this can do for one cancer survivor, 80-year-old Jan Martinie credits her 14-year survival to Come Together, Be Empowered. In an interview, she said that if it weren't for the strong community support, she wouldn't have the strength to fight.
It was indeed an event to remember. Hundreds of advocates turned up at Fairview park early Saturday morning to mingle with other people with the same goal – bring an end to cancer.
Looking for women's headbands? Find the perfect headband at SweatBands.com
Decatur residents first found their spark during a Susan G. Komen Race for a Cure event that was held in the town some 20 years ago. In 2010, the locals were given the chance to form their own event and never looked back. Come Together, Be Empowered has become Decatur's biggest fundraising event against ovarian, breast and cervical cancer.
More than the funds being raised to support awareness and research, Come Together aims to bring a community of advocates and survivors together year after year. Just like Jan, having the support of a community that understands exactly what you are going through is as important as getting treatment.
Community comes together for breast cancer
Each Come Together event includes a 5K run, a one mile and 5K walk. In the past, the event can raise up to $40,000 which will be distributed to different local charities that focus on helping women with breast, ovarian and cervical cancer. An estimated 1,000 participants are expected to attend this year's events.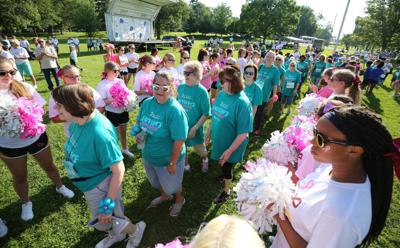 Decatur Memorial Hospital and HSHS St. Mary's Hospital sponsored the event and provided attendees with cancer education during the duration of the event. Meanwhile, cheerleaders from Eisenhower, MacArthur and Maroa-Forsyth high schools all cheered on the survivors during the pre-race ceremony. They event formed a walkway where the survivors were celebrated for their strength and the hope that they give to one another.
Along its 10 year run, the organizers of the Come Together event are glad to see that they are now starting to inspire the younger generation to join the fight as well.
Looking for Pink Ribbon Items? Visit Suddora and use the coupon code BCFG10 for 10% OFF your order! Including great items like: